What is an Intranet? Definition, Features, Advantages & Disadvantages | Devstringx
Kamal Singh
How do share confidential information within an organization?
How to keep the information flow more productive
Well, the answer to these questions is the Intranet which is the epicenter of today's digital workplace!
Share data, pictures, videos, and much more globally with the help of this biggest wonder of technology.
Intranet is yet another advantage of living in the 21st century. With an intranet, you can easily filter or restrict the usage of a certain network. After all, not every piece of information needs to be shared with one and all.
If the intranet is a novel concept for you, the first thing you have to do is to understand what it actually means.
What Is an Intranet?
Intranet is the new gen's buzzword for success and better productivity!
Wondering what it actually is?
An intranet is a type of network that can use for privately connecting the different components of an enterprise.
This network is restricted to only an individual enterprise that widely uses for exchanging information and important resources among the members of the enterprise.
It is widely used for group chats, teleconferencing, using one screen on different devices, and working in a group of 2 to 3 people, and is much more than transferring data from one employee to another inside an enterprise.
The Intranet allows you to specifically design and exchange any particular type of data or all the data to make it easier for the employees as well as the employer.
It helps in establishing a strong communication network bridge in an enterprise. Wondering how?
You can transfer various forms of data such as links, files, databases, applications, and confidential information regarding the company records easily on one platform.
It can be accessed by all the employees of an inter prize by providing them access to a network by the employer itself.
Each employee is given a unique username and password to access the data and ensure that the data is in the right hands.
But has the intranet system grown? Or is there any advancement in this system since it was launched?
Many features of the intranet are enhanced with the help of additions made on the account of advancement.
Let's discuss what are the new additions to the intranet system and what the modern intranet looks like.
Modern Intranet Definition
As you know, the modern world is run by social media and social media platforms with over 3 million active users
Going on the same path, the intranet allows you to use various features similar to social media platforms.
With this, communication is now easier and more convenient for all. You can create posts for the group which includes necessary information of all sorts. This will reduce your burden of passing the information exclusively to each member of the group.
Another benefit of modern intranets is that now, the modern intranet models allow employees to use social media features.
These features include operations such as creating different profiles, submitting files, liking or commenting on certain information, and much more.
With the help of modern models of intranet, you can also add various posts which you feel can be shared with everyone in the group.
Hence, modern intranets have changed the game for communication and data storage in huge companies and have given it an exciting twist.
You can use various modern intranet portals as easily as you scroll your Instagram and post pictures on it.
Learning intranet portals and the way it works is very simple for anyone now.
However, you still need to learn more about Intranet. But for now, let's talk about the features of the Intranet that makes it unique and helpful for companies and employees.
Features of Intranet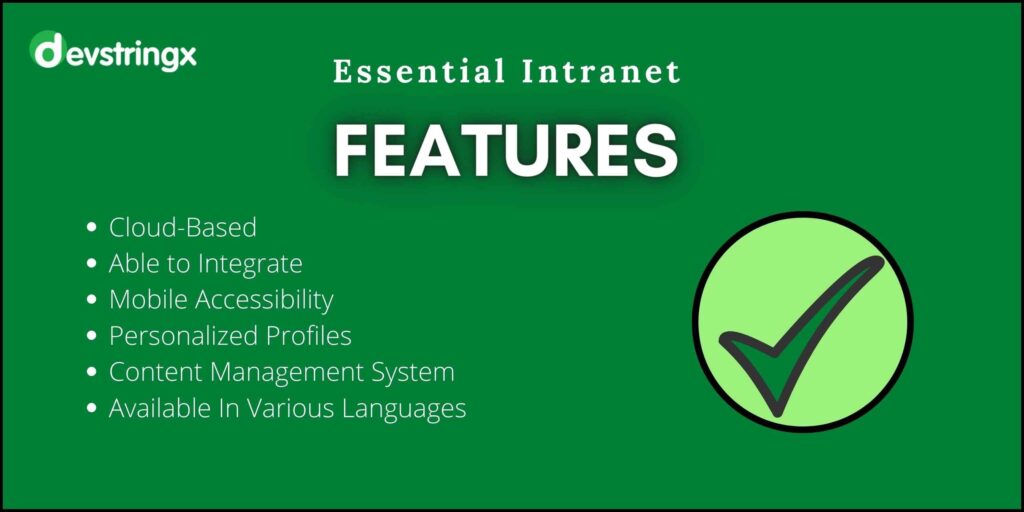 All equipped in one, an intranet is a boon you can't deny using!
There are various features of the intranet that you must look for while choosing one for your organization. Being particular about what you need from your private network system is a must to ensure the best quality.
After all, your team's functioning and management highly depend on it. Following are some of the features that you must look for in the intranet while selecting it for yourself:
 When everything is going cloud-based,  then why not your network system? With cloud technology as a center, you can access data anytime, anywhere!
One-Stop Solution for All Communication Needs
With an intranet, you don't have to run to different desks to get a file. As Intranet systems use to make data availability and accessibility easier for all.
It must offer various core operations like productivity, transferring, collaboration, communication, and others to make it easier for all employees and employers.
Able to Integrate With Huge Collaboration Suites
How would you feel if you are not able to open a Google form on your system just because your network does not support it?
Terrible. Therefore, Intranet must provide the ability to collaborate with various workplaces such as Google, Microsoft, and others.
Other than opening Google links and files, the employees need to be social with one another. How will you send Or receive information on social media?
The intranet will help you with this. It will help you in sharing information and meaningful data. The readers can interact with the employee or individual who posted the information.
Available In Various Languages
Not every working professional in a workplace does not have to be comfortable with a single language. Right?
It's not important that you know English or any local language like others. Hence, to make communication easier and resolve linguistic conflicts, Intranet allows you to use your network system in different languages.
Content Management System
With an appropriate network system, you can manage the local content generated within an organization easily. The CMS must be available in a personal network system to ensure that all information is available to the employee in a framed and organized manner.
With companies with over 100s employees, it is usual to get confused and conflicted.
However, with an appropriate network system, you can create unique IDs for all employees. Also, it becomes easier to search and reach an employee if they have a unique username and ID on the portal.
Provide Notifications Timely
It is vital to keep the team informed and involved with every operation. Or are you ready to handle a team that was not notified and hence is not prepared?
The intranet allows you to send timely notifications to the team members. And there is no chance of them missing a single update since it will reach their phones as well.
What if you can check the updates and Notifications on the go? Via your smartphone?
It will be convenient and easy to keep a track of all the functions. Many personal network systems allow you to access your portal accounts through your smartphones. Thus, make sure you select the intranet system where it provides an easy-to-use mobile application as well.
After assigning work, isn't this the duty of the organization to monitor its progress as well?
Various aspects of your organization including the statistics of time spent by an employee on the network or a specific task must be analyzed by you. It will help you in governing the techniques, speed, and efficiency of the employees and managing the resources appropriately.
Allows Transfer of Multimedia
Your team doesn't have to only deal with docs or excel throughout the projects. What if they wish to exchange other formats such as  .png,.jpg., PPT, or any other format generated by company-specific software?  Will you get another system for that?
Your intranet system must allow the users to exchange different media without any restrictions unless stated or declared. And yes, an intranet is capable of doing so.
If you are wondering why the internet must have replaced the intranet from every workplace now, you are mistaken. Companies know the potential intranet holds and what wonders it can do.
So the answer to your dilemma if the intranet is still in the game or not lies in the next segment with appropriate answers for "why"
Recommended to Read:- Are Intranets Still Relevant for Your Organization?
Advantages and Disadvantages of Intranet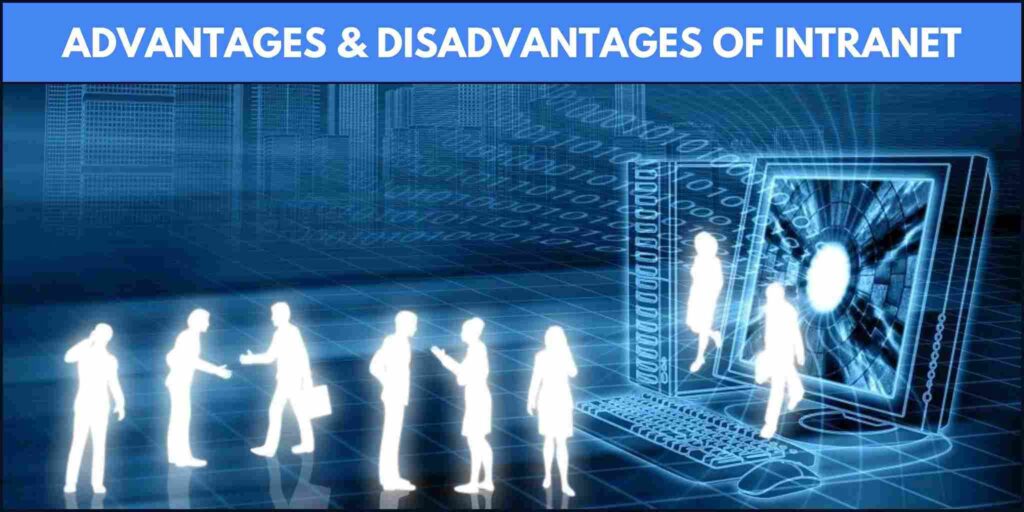 Learning about both the negative and positive aspects of a system is important to use and utilize wisely.
How about we start with some positivity first?
Advantages of Intranet
From janitors to CEOs to the common man, the intranet has it all for everyone!
Following are some of the reasons why:
Do you know most of your "additional expenses" Are the fee you provide for transferring data from one place to another?
Wondering how you can bring it down? With intranet. Transferring data within a personal network system saves a lot of costs for employers. Also, the overall cost of sending the data to and fro is reduced.
Have you ever faced this issue while getting an important document from another branch of your company?
You can concentrate your data on a certain point from which any employee can access it anytime they need. All they need to do is visit the system and download the file on their system given that it is available and accessible for all.
Every company is working to broaden its profit margins right? By saving time exchanging files, you can reduce the overall cost of the project and improve your profit margin.
Also, there are many other ways in which the intranet can help you in improving the profit margin of the organization
Allows Publishing On the Web
Do you know that you need a License publishing to actually publish a post on any network?
One of the most important advantages of using the intranet is that you get to publish all your posts over the web in a licensed manner.
To ensure that the company or organization is working efficiently, it is important to see what employees think. With the intranet, you can get feedback from employees, seniors, and all others in an organization easily. And do you know that now you can add feedback or comment for a specific employee?
Yes, just by mentioning them in a chat with "@"
Transparency Within the Organization
Who likes secrets especially when it comes to an organization? Another important benefit of using a personal network system is that you can share all the information with your entire team publicly.
And 87 people out of every 100 working employees wish to work at a company or organization with a transparent system. How about you attract the best of the tribe for your company as well?
Although the intranet has a lot to offer companies, there are some aspects on which it still needs to work.
In the next section, we have explained a few characteristic features where the intranet lags and needs improvement.
Disadvantages of Intranet
After keeping tabs on the advantages, it is equally important to note down the drawbacks of a system.
Following are some of the disadvantages of using an intranet in your organization:
Although the installation of the intranet is economic, the cost of using it throughout the year becomes high. Wondering how?
The maintenance of the working cycle for this network system is complicated and requires a larger amount of time.
How can you keep tabs on the updates? There is no option of staying at a particular version of this system. The updates are often complicated and take time to be learned by all the employees. Different employees may react or adapt differently to the updates
As much as Intranet makes communication easier, it takes up a lot of time from the employee's end. Will that be feasible?
The employees have to take up a separate time to update and inform their other colleagues about their work and status. Although this is a good thing for the company, the employees might find it highly time-consuming.
Can you think of a time when your phone was overburdened with all the apps that you have installed merely out of the fun?
Well, the same scenarios arise while using the intranet. With every communication or exchange of data, the employees pile up the overall data on the system. This results in an overload of data in a system making it slower and affecting its efficiency.
You must be thinking now about how the intranet differs from extranets given that it comes with similar uses. Let's have a look at both systems separately and try to distinguish between them.
Difference Between Intranet and Extranet
You can easily distinguish between intranet and extranet by looking at the pointers given below:
An intranet allows only the internal members of a team to access data however, with an extranet the access to data lies with internal and external members
Intranet uses a firewall to provide security whereas the firewall serves as a separator for the internet and extranet in case of an extranet system
An intranet allows only a team or a limited number of people to be connected whereas an extranet can connect various devices
Only a single organization can run an intranet but multiple organizations can access the extranet
Examples of intranet include various huge network systems such as the one used by WIPRO whereas DELL and intel are common examples of extranet in MNCs.
Now that you know everything about the intranet, you can make an informed decision.
When are you securing your data and making life easier at your office with the intranet?
FAQs
It is a private network that is only accessible to a specific organization, such as a company or government agency. It uses to share information and resources within the organization and typically access through a web browser.
What is the meaning of an intranet system?
An intranet system refers to the infrastructure and technologies that use to create and maintain an intranet. This can include hardware, software, and other resources such as servers and routers that allow users to access the intranet.
What are some features of an intranet?
Intranets can have a variety of features
File sharing and collaboration tools
Internal communication tools, such as email, chat, and forums
Employee directories and directories of company resources
Access to company policies and procedures
Tools for managing HR tasks
What are the pros and cons of using an intranet?
Pros of using an intranet include:
Improved communication and collaboration within the organization
Centralized access to resources and information
Enhanced security compared to using the public internet
Cons of using an intranet include:
Limited accessibility.
Technology and infrastructure causes vulnerable to downtime.
Potentially high costs to set up and maintain.
Can you provide a corporate intranet definition?
A corporate intranet is a private network that uses specifically by a business or corporation. It typically uses to share information and resources with employees and other authorized users within the company. A corporate intranet can use for a variety of purposes, including communication, collaboration, and access to company resources and information.
If you are interested in even more tech-related articles and information from us here at Devstringx, then we have a lot to choose from for you.